CCBA Presents the 52 nd Annual Chinatown August Moon Festival
Date: Sunday, August 14, 2022, 10:00am – 5:00pm
Location: Boston's Chinatown (Harrison Avenue and Beach, Tyler, Hudson & Oxford Streets)
Main Stage in Phillips Square (by the corner of Harrison Ave. & Essex St.)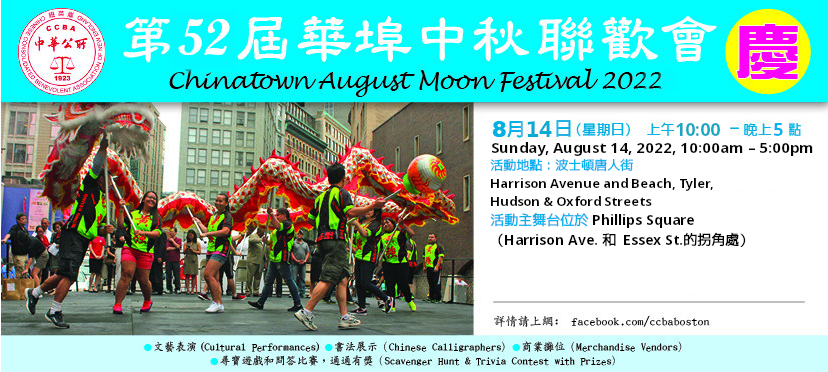 The Chinese Consolidated Benevolent Association of New England (CCBA) is pleased to announce the 52 nd Chinatown August Moon Festival, which will be held on Sunday, August 14, 2022 from 10AM – 5PM. Please join us for this wonderful all-day event.

Each year, the CCBA organizes Chinatown's August Moon Festival. Now in its 52 nd year, Chinatown's August Moon Festival is a day-long event filled with cultural performances (including lion dancing, Chinese music and singing, traditional folk dance, and martial arts) as well as Chinese calligraphy, arts and crafts, and various vendors of Chinese food and merchandise. The festival not only celebrates an important Chinese holiday, but also serves to attract people of all backgrounds to Boston's Chinatown and to highlight what the CCBA and Chinatown have to offer the general public and to educate people on Chinese culture. The event attracts thousands of spectators from the greater Boston area and beyond to Boston's Chinatown each year.

Although there is much Chinese lore concerning the August Moon Festival, this Chinese holiday, which traces its origins back to 771 BCE, historically celebrated the annual harvest of rice and wheat on a night of the full moon. Today, the August Moon Festival in Chinese culture is very similar to American Thanksgiving. The fundamental concepts the August Moon Festival celebrates are the gathering of friends and family, thanksgiving, and prayers for the future.

Mooncakes, a round dessert typically filled with lotus paste and an egg yolk (representing the moon), and
which are a symbol of family unity, are shared between family and friends as part of the celebration.
Please come join the CCBA in this celebration on Sunday, August 14, 2022. This event is open to the public, no admission fee is required. For information and updates concerning the CCBA and the August Moon Festival, please visit ccbaboston.org or like us on Facebook at facebook.com/ccbaboston.